Like Vegemite, musicals are the type of thing you either love or hate. And just like Vegemite, Stray Gods: The Roleplaying Musical was made in Australia (but will not leave a bitter taste in your mouth). After 5 years of development, Summerfall Studios brings one of the most unique and captivating whodunit games ever. So does Stray God's fulfill the prophecy of being one of the greatest games of the year? Read our Stray Gods: The Roleplaying Musical Review to find out.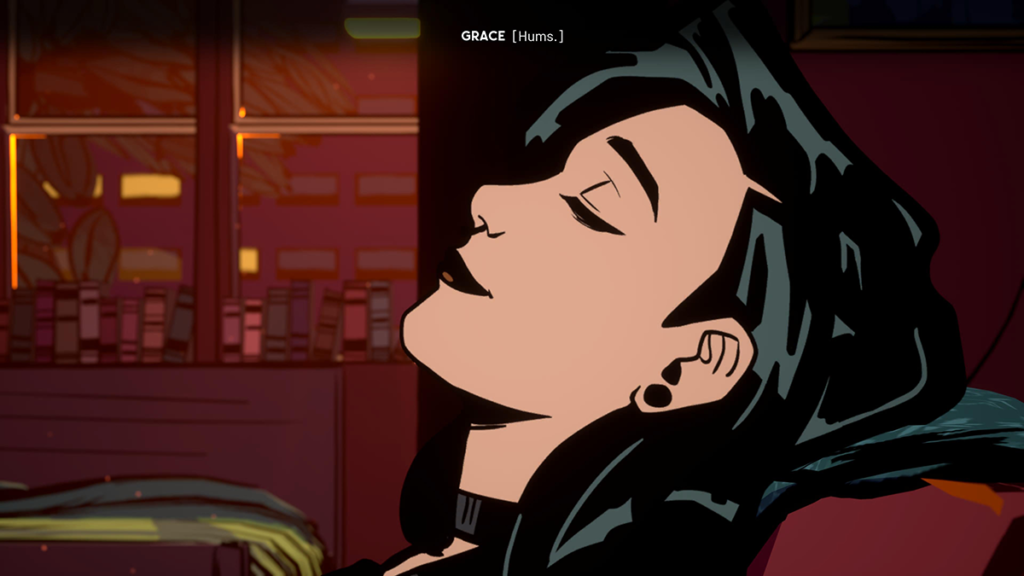 Stray Gods: The Roleplaying Musical Review – Story
Grace (Laura Bailey) is just your average college dropout who befriends Calliope (Ashley Johnson), an idol who has the power of a muse. This friendship becomes short-lived when Calliope accidentally enters Grace's apartment and dies. Grace inherits the power of the muse and must prove her innocence to a group of idols called The Chorus, headed by Athena (Felicia Day).
The narrative is gripping and emotional. You will laugh and you will cry. Despite being Gods, the characters are still so personable and likeable. Grace is that punk-rock goth girl that you just can't help but fall in love with. It was hard not to become so attached to her as a character. You'll decide who Grace allies with, who she can trust, and who may betray her.
I found myself at first loathing Persephone but thanks to the choices I made, she became one of my favourite characters. Summerfall Studios' has achieved greatness in the fact that every player will gravitate toward at least one character in Stray Gods. It's a special feat to accomplish in such a short game which will range between 3-5 hours.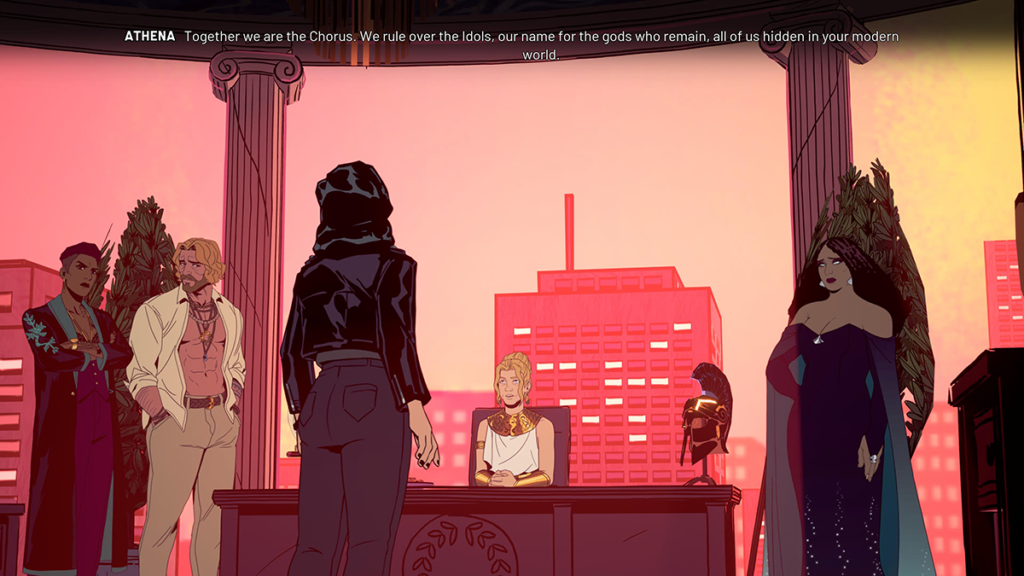 Stray Gods: The Roleplaying Musical Review – Gameplay
Being more on the visual novel side, Stray Gods doesn't offer many gameplay mechanics. The story is driven by selecting dialogue choices that shape and tailor the narrative based on your decisions. As marketing suggests, no two playthroughs are the same. There are thousands of variations, which will call for many discussion points with your friends.
During moments of the game, you are asked to select a trait for Grace, which unlocks extra dialogue options throughout the game. The three traits are Charming, Kickass, and Clever. This mechanic carries on into the songs as well which have story branches. These choices are the biggest you make and will often strengthen or weaken your relationships with other characters. Important decisions are often timed which can be quite stressful but there is an in-game option to turn that off which is a nice touch.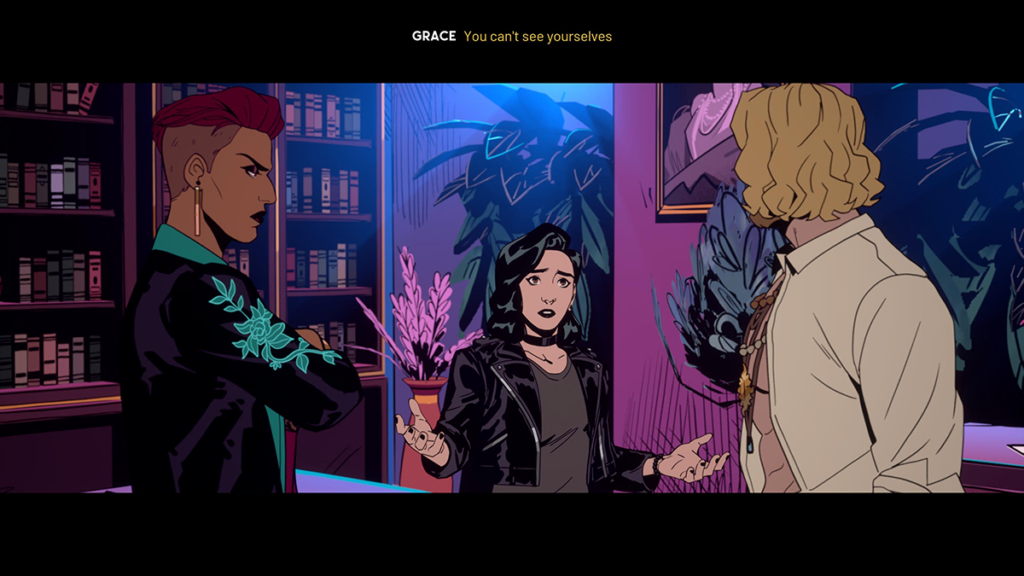 READ: Disney Illusion Island Review
Speaking of relationships, you can romance a diverse range of characters throughout the game. My playthrough has Apollo being the romance option for Grace. I haven't attempted to romance anyone else, but it's clear to me that regardless of your choice, it can heavily influence the narrative. The replayability is undeniable, and I will be jumping back into the game for another playthrough as soon as time permits.
There are only one or two things I didn't enjoy in Stray Gods. These are just related to UI design choices. The map which allows you to navigate between areas was really cumbersome. Even by the end of the game I still had a difficult time knowing where my cursor was going to go. The same can be said for the two locations where you are looking for clues. It is just a menu with items in the room with almost none of them providing any extra lore except the exact item you are looking for. I just wish there was a little more depth to these tasks.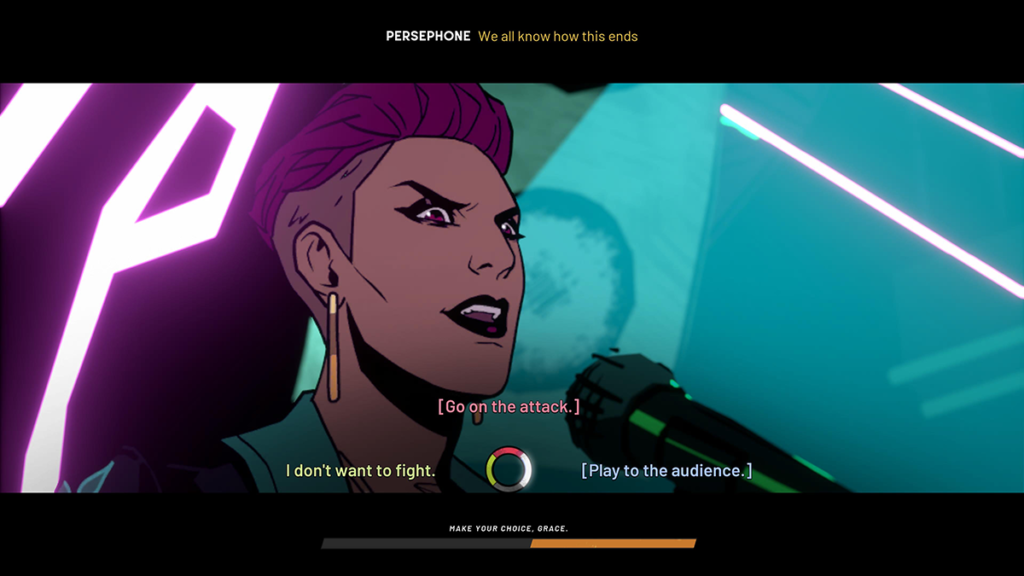 Music and Audio
As I'm writing this review, I'm re-listening to the soundtrack by the legendary composer Austin Wintory on Spotify. I genuinely enjoy the soundtrack, but it won't capture everyone's hearts like it did mine. I had already heard Ashley Johnson and Troy Baker sing in The Last of Us Part II, but what I wasn't expecting was Laura Bailey's powerful vocals. She has such a soothing yet expressive tone in her voice and it really lends itself to the soundtrack.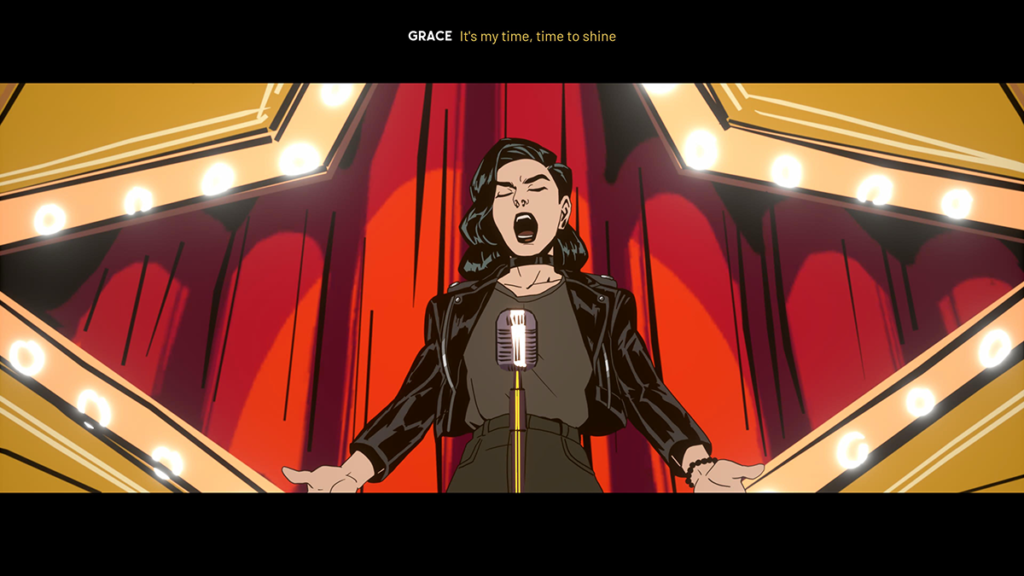 Grammy-nominated and BAFTA-winning composer Austin Wintory has worked on many iconic games such as Journey, Abzu, and The Pathless. His phenomenal work on Stray Gods speaks for itself; when combined with the performances of such a dynamic cast, it would be shocking if there weren't more nominations on the way.
It's evident that these songs are not meant to be catchy bops, but were constructed so purposefully for the narrative. In an interview with Screen Rant, Wintory said the following:
"I wanted to make sure we never relegated songs to incidental moments. Sometimes, if you look at musicals, they'll have really vulnerable, emotional, important dialogue scenes that then open up into a musical number. Then, there are other musicals where they make those very important moments in a musical number. I said, "For anything that's of major importance, we need to have the courage to do it in a musical number, knowing that it's terrifying, and we're really hanging ourselves out there." That's what, to me, defines a musical."

Austin Wintory, Stray Gods: The Roleplaying Musical Composer on the One-of-a-Kind New Game
Adrift, Challenging a Queen, Look Into Me, and The Ritual are standout tracks for me. You can listen to Adrift below (no spoilers):
Listen to the full soundtrack on Spotify (but probably just play the game first, as the songs later in the soundtrack have spoilers in them).
Graphics and Performance
Stray Gods features beautifully hand-illustrated scenes that capture the charm of comic books. Each frame feels like a living canvas that integrates seamlessly with the musical elements of the game. There aren't many games doing what Stray Gods does in terms of overall presentation, and hopefully, we will see more iterations of it from Summerfall Studios and other development studios.
STRAY GODS: THE ROLEPLAYING MUSICAL REVIEW
Stray Gods: The Roleplaying musical is another unique and well-established entry into Australia's portfolio of games in recent years. With a captivating story, loveable characters, and some stellar performances by the cast, this one-of-a-kind game is sure to scratch that musical itch you have. 
PROS
Visually impressive
The soundtrack is marvellous
Impressive vocal performances -(both dialogue and song-wise)
Who doesn't love a classic whodunit murder mystery?
CONS
UI isn't user-friendly at times
Some investigative tasks seem trivial
Played on PlayStation 5. Review code supplied by HumbleGames.