Moving house is one of the most tedious adulting tasks you will ever have to do in life, but somehow SMG Studio finds ways to make it enjoyable yet again. Expanding on the foundations of 2020's Moving Out, Moving Out 2 returns as a cooperative action/puzzle game with the added functionality of online play. So does Moving Out 2 do enough to differentiate itself from its predecessor? Find out in our Moving Out 2 review.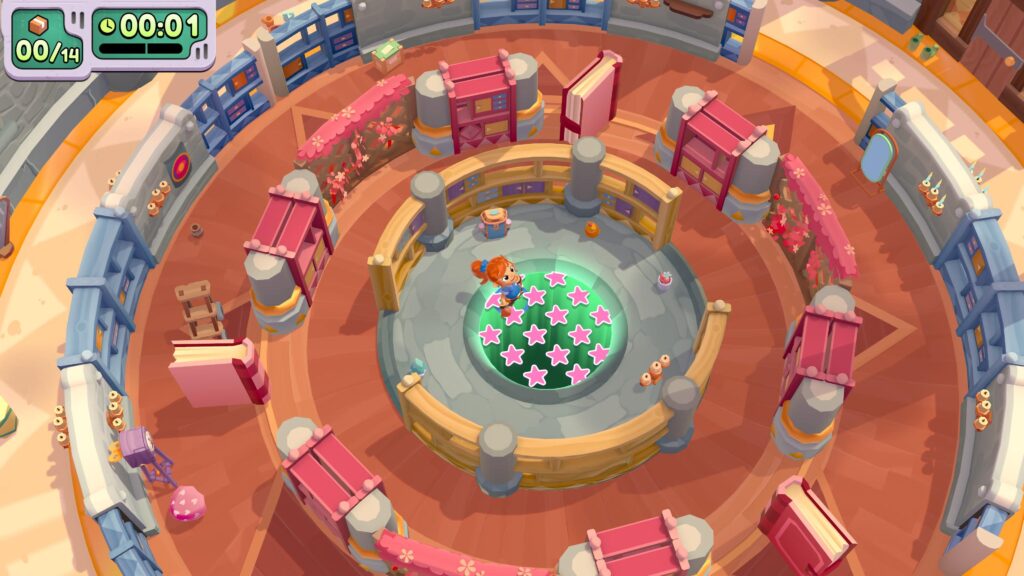 In Moving Out 2 you return to Packmore as an employee at Smooth Moves furniture removalists and utilise your moving skills to solve many obstacles across multiple dimensions. Whether it is packing or unpacking furniture, herding farm animals, or sorting cargo, no task is trivial in your quest to become an all-star F.A.R.T. (Furniture Arrangement & Relocation Technician).
Core gameplay mechanics have been taken from Moving Out and expanded upon to offer a new game that will make the first game feel like a distant memory. You will be continuing to move items from one place to another but the addition of variating gimmicks and diverse level design allow the game to shine. These enhancements not only inject more mayhem into the gameplay but also allow Moving Out 2 to truly stand out.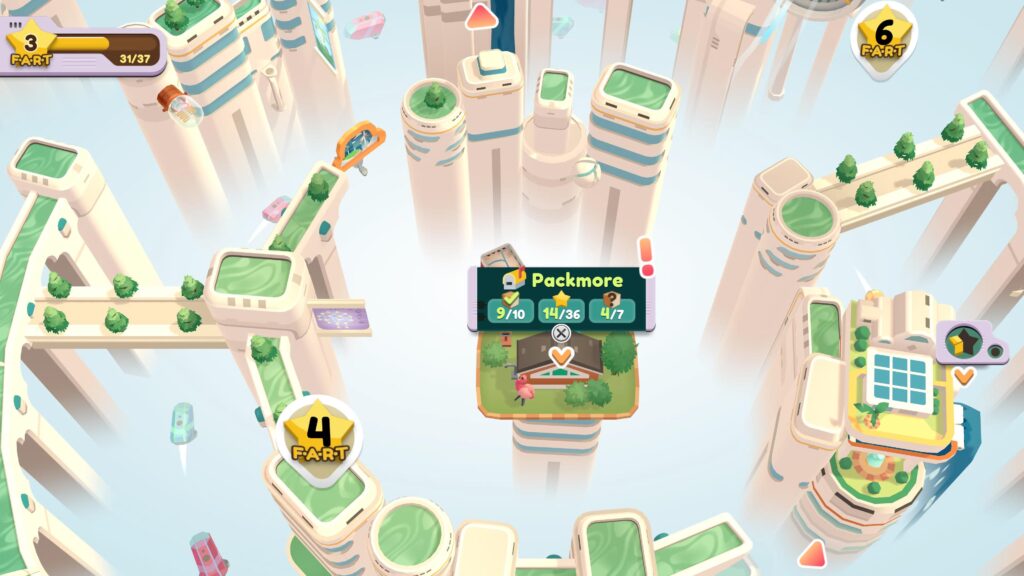 READ: Stray Gods: The Roleplaying Musical Review
Aside from Packmore which offers your standard removalist tasks, there are other dimensions to explore across the map. Pactropolis City is a futuristic city in the sky, Middle Folkmore is a fantasy-inspired land, and the candy-themed dimension, Snackmore. Each dimension offers its own unique traits and additional gimmicks to keep you and your friends engaged throughout the whole game. There are a few gimmicks I wasn't thrilled about. One of these is the level being concealed by clouds where you need to use a fan to reveal where all the furniture is. That being said, I played that level solo, so it may be that it just didn't translate that well without a team.
As you level up your F.A.R.T. level, you unlock access to additional levels which will have you bouncing between dimensions as you progress through the story. Increasing your F.A.R.T. level is as simple as acquiring stars. These stars can be obtained by completing bonus objectives like "smash all the windows" or "place all the orbs first". There is always a reason to revisit each level, whether it be to try and complete the level in pro time or achieve the aforementioned objectives.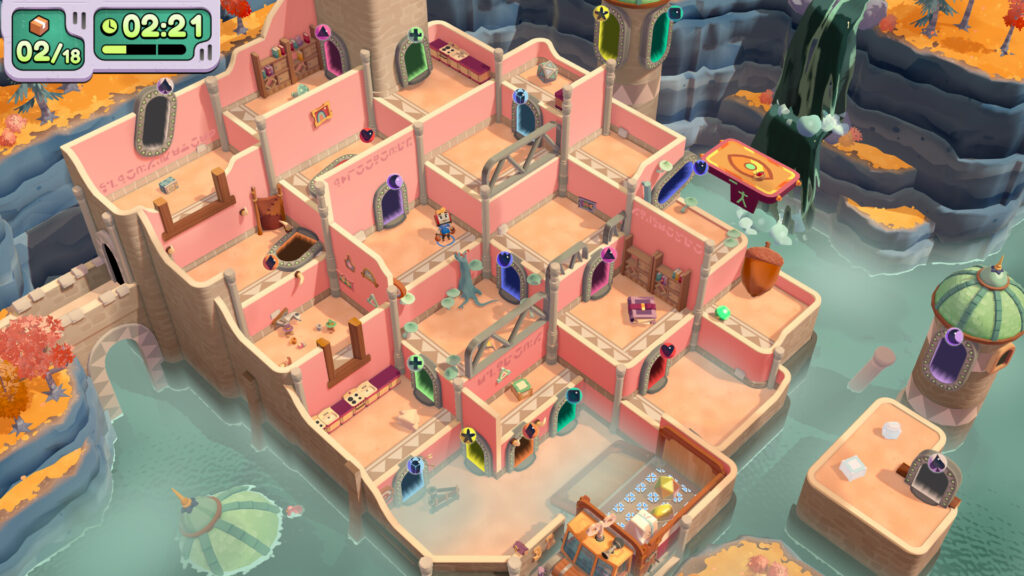 If you want a bit more of a challenge, the arcade returns that offers Fall Guys-like obstacle courses, with furniture. It is as chaotic as it sounds. These can be quite difficult but it is so satisfying when you beat each level. Collectibles are hidden throughout the game which unlocks additional characters and arcade levels.
I played Moving Out 2 both solo and cooperatively and it's clear as glass that the game shines with friends. I love some couch co-op and found my enjoyment skyrocketed when my brother and I were yelling at each other to help move heavy furniture. It's chaotic co-op at its finest. I do like that solo play is still offered, but do yourself a favour and recruit a friend to help.
SMG Studio once again successfully managed to take the seemingly mundane task of moving and turn it into an entertaining cooperative action/puzzle experience. With core gameplay enhancements and diverse level design, Moving Out 2 will keep you and your mates entertained for hours and hours.
PROS
A hefty amount of mechanics added in this sequel
The level design doesn't feel repetitive at all
A game that will appeal to just about everyone at your next games night
CONS
Solo play can feel less exciting
Some of the gimmicks were a bit frustrating
Reviewed on PlayStation 5. A review code was provided by the publisher (Team17). 
Moving Out 2 is now available on PlayStation 4, PlayStation 5, PC, Nintendo Switch, Xbox One, and Xbox Series X|S.