VR games are quite a niche when you think about how inaccessible the games are to the everyday gamer. The presence of VR games at PAX Aus 2023 was quite impressive. Gamers from all over Australia were checking out virtual reality games they may never have the chance to play otherwise. One of the most impressive VR games I checked out at PAX Aus was by Brisbane-based studio Actuator Digital, and it's called On Point.
Based on the classic arcade shooters of the 90s, On Point is a fully immersive light-gun shooter for VR. The game features 30 minigames, all varying in difficulty, but intended for all ages. Players are tasked to shoot targets or avoid shooting targets, with the more difficult mini-games supplying you with limited ammo.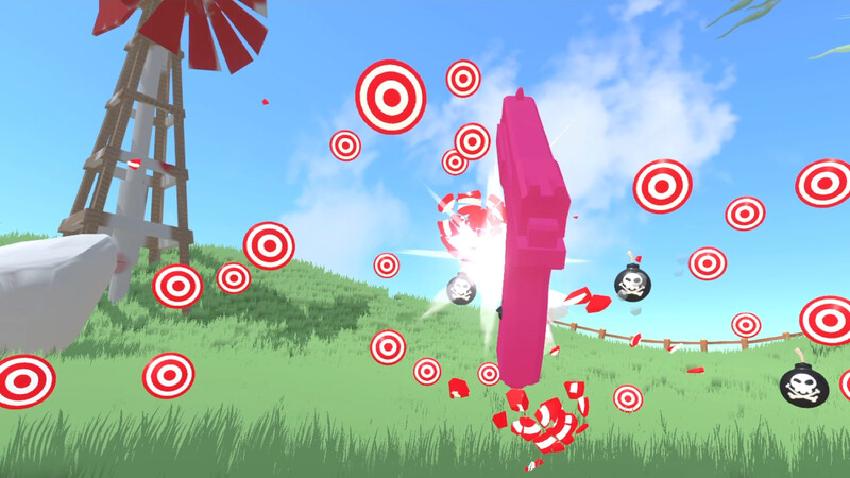 As someone who played Point Blank on the PS1 back when I was a wee kid, I was instantaneously drawn to this on the PAX Aus show floor. Putting the Meta Quest on and holding the two gun controllers felt like the genre was in its newfound home — in VR. The accuracy of my shots was extremely precise, I never felt cheated out of a shot throughout the dozen mini-games I was able to try.
While my playthrough of the game was completed standing up, the game was designed to be highly accessible, with options to sit or stand, plus the ability to use one controller and one trigger input. The game also caters to more experienced competitive players, with more difficult challenges and leaderboards, promoting replayability.
Whether or not you played the classic arcade shooters of the 90s, you are sure to have a hoot with On Point once it releases in April 2024. It boasts a strong 90s aesthetic, a funky soundtrack and striking, vibrant visuals. It's about time classic Arcade games found their revitalisation through the evergrowing medium that is VR. Can we have a game inspired by Time Crisis next?
Watch the On Point Announcement Trailer:
---
On Point will be available April 2024 on VR on Steam, Meta, and PSVR 2.